Whale Watch Wednesday
Posted on: 4-25-2019
*UPDATE*
Entangled Gray Whale update from Alisa Schulman-Janiger:

"Indian crew confirmed wrapped on the base of its flukes and trailing behind. They took assessment photos and called NOAA's Large Whale Entanglement team - coordinated by NOAA's Justin Greenman, and including NOAA's Lauren Saez and Lauren De Maio, Marine Mammal Rescue's Peter Wallerstein, and others. The Gray Whale Census volunteers tracked the whale for 80 minutes, providing the entanglement rescue team with crucial movement data that helped them relocate it later. The team cut some gear off, and attached another LARGE ORANGE POLY BALL MARKER BUOY as light failed. The buoy is attached to trailing gear with 50' of YELLOW line; it rarely submerges with the whale, who consistently followed the 180' contour line.
*If you see this whale: DO NOT APPROACH or try to disentangle it - stay at least 100 yards away from the whale and the orange marker float! DO STAY WITH IT: take photos, document it, and immediately call NOAA's Assistant Stranding Coordinator Justin Greenman at 707-496-7230, or the NOAA Entangled Whale Hotline 1-877-SOS-WHALE, and hail USCG on CH 16."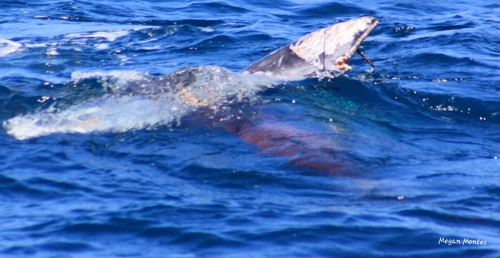 Sightings: Gray Whale (1)